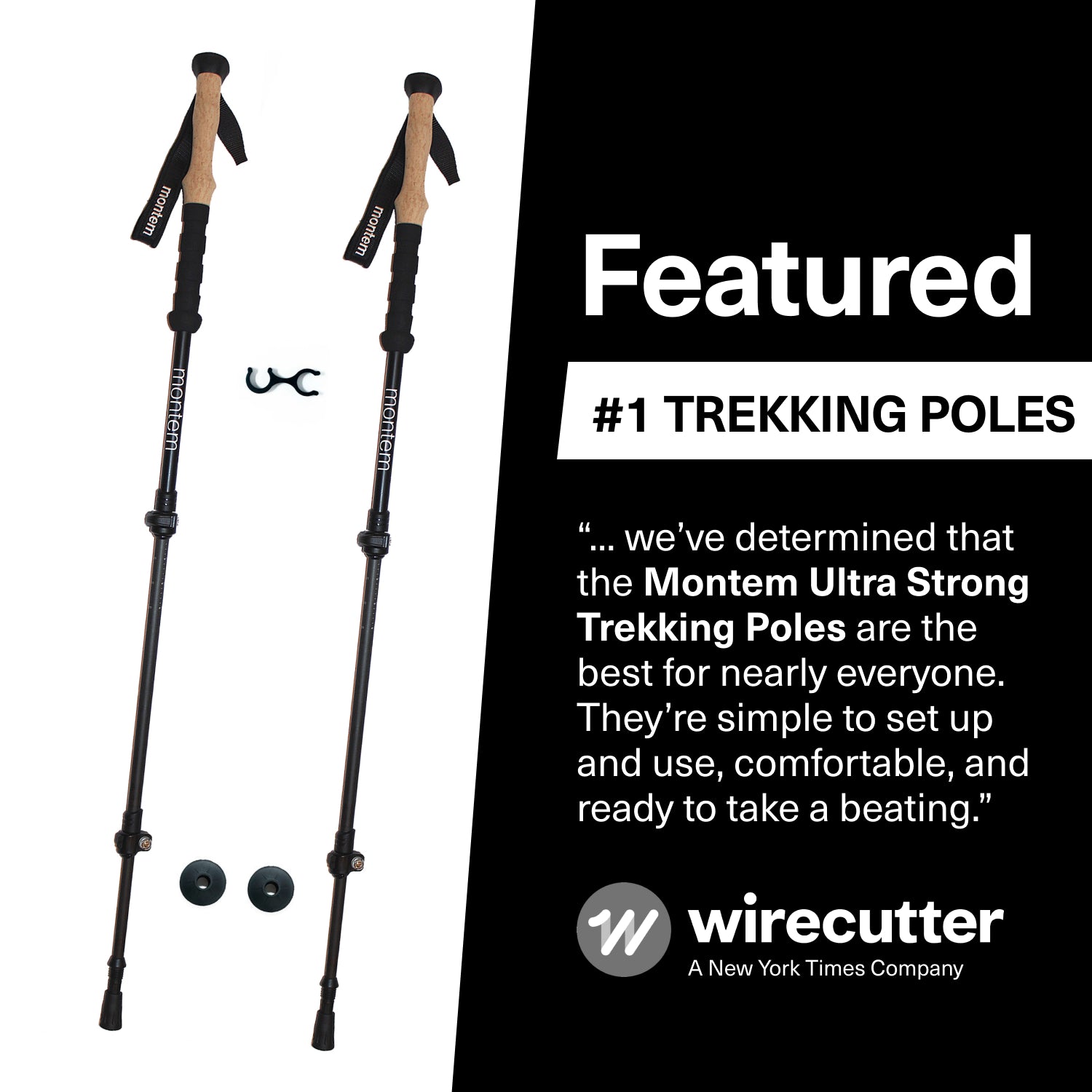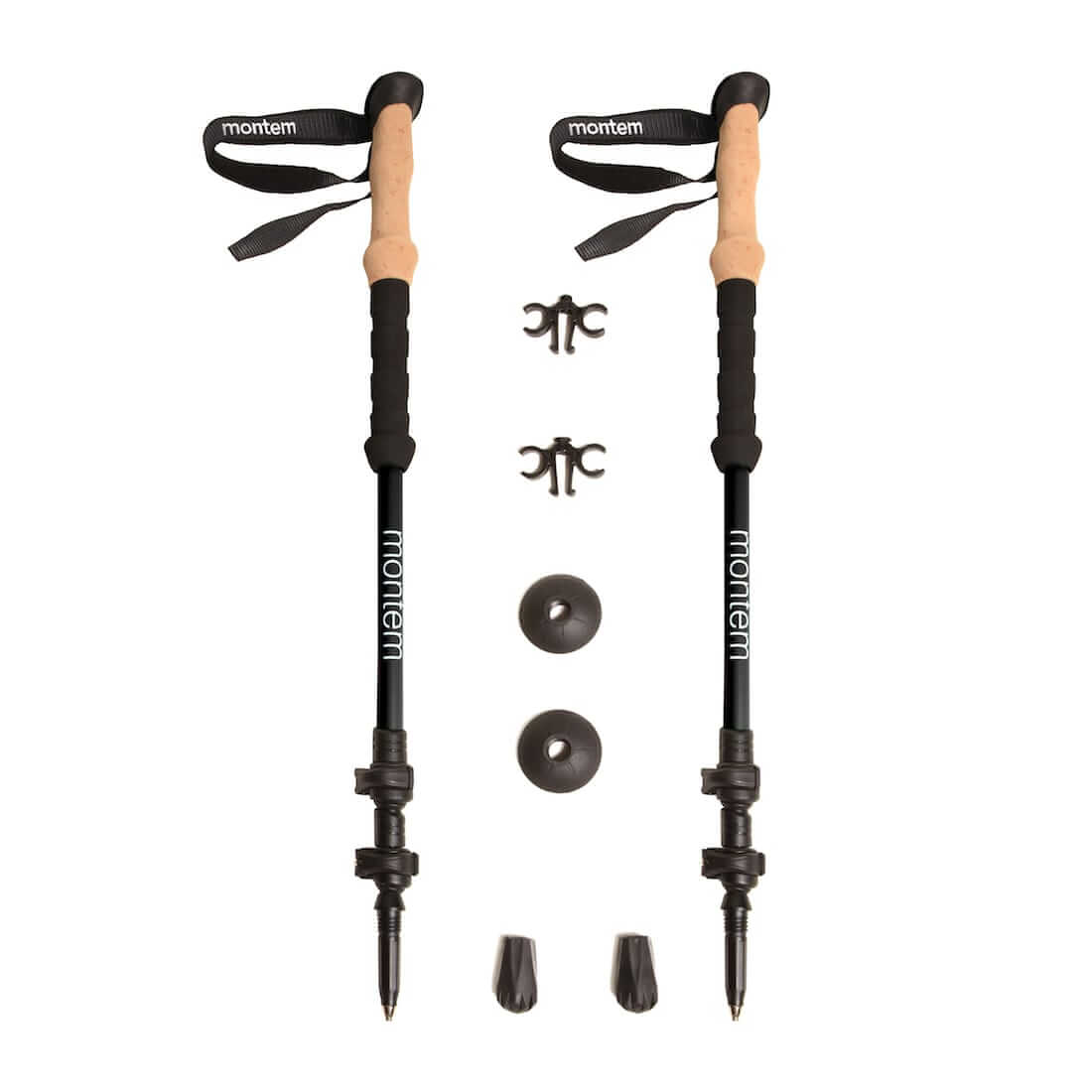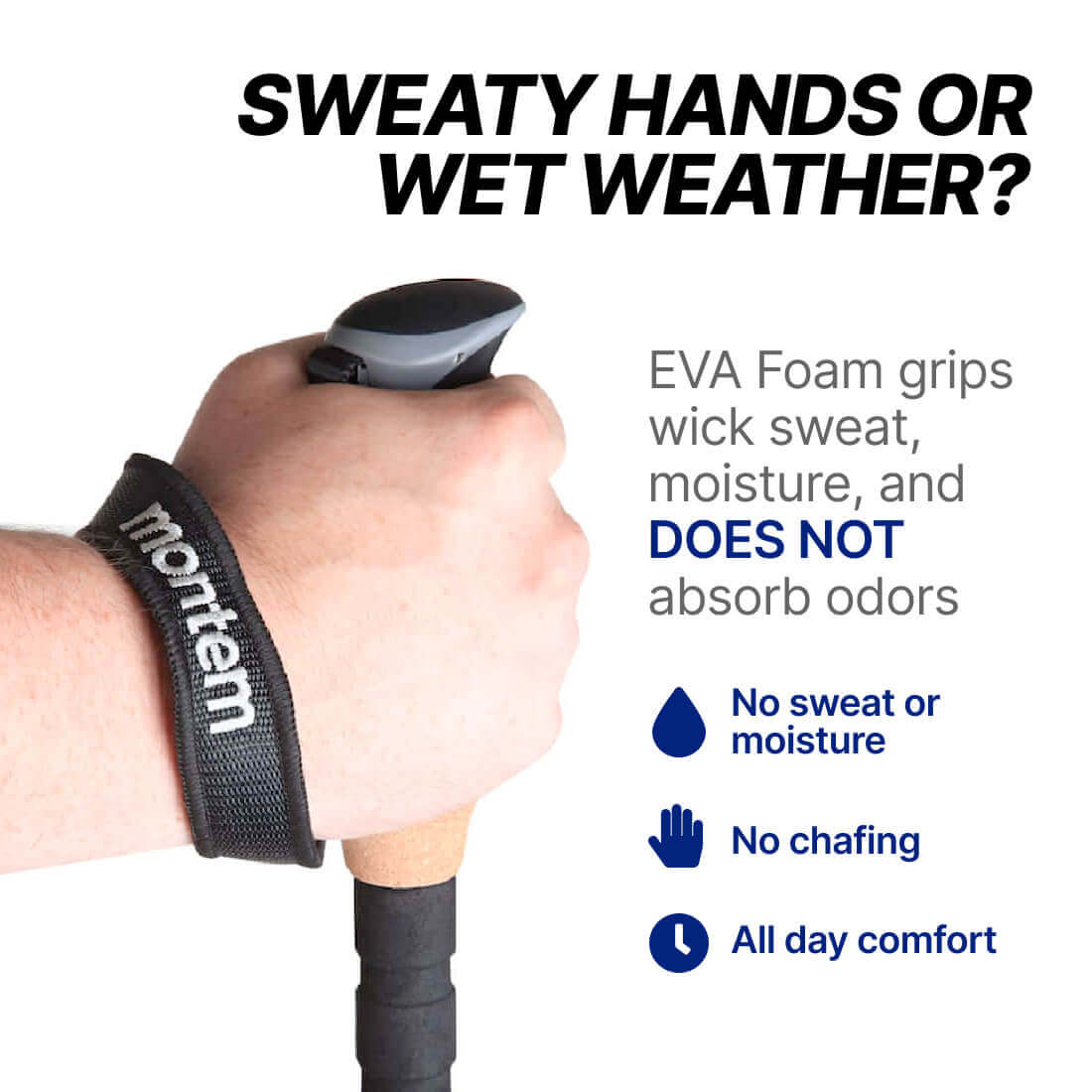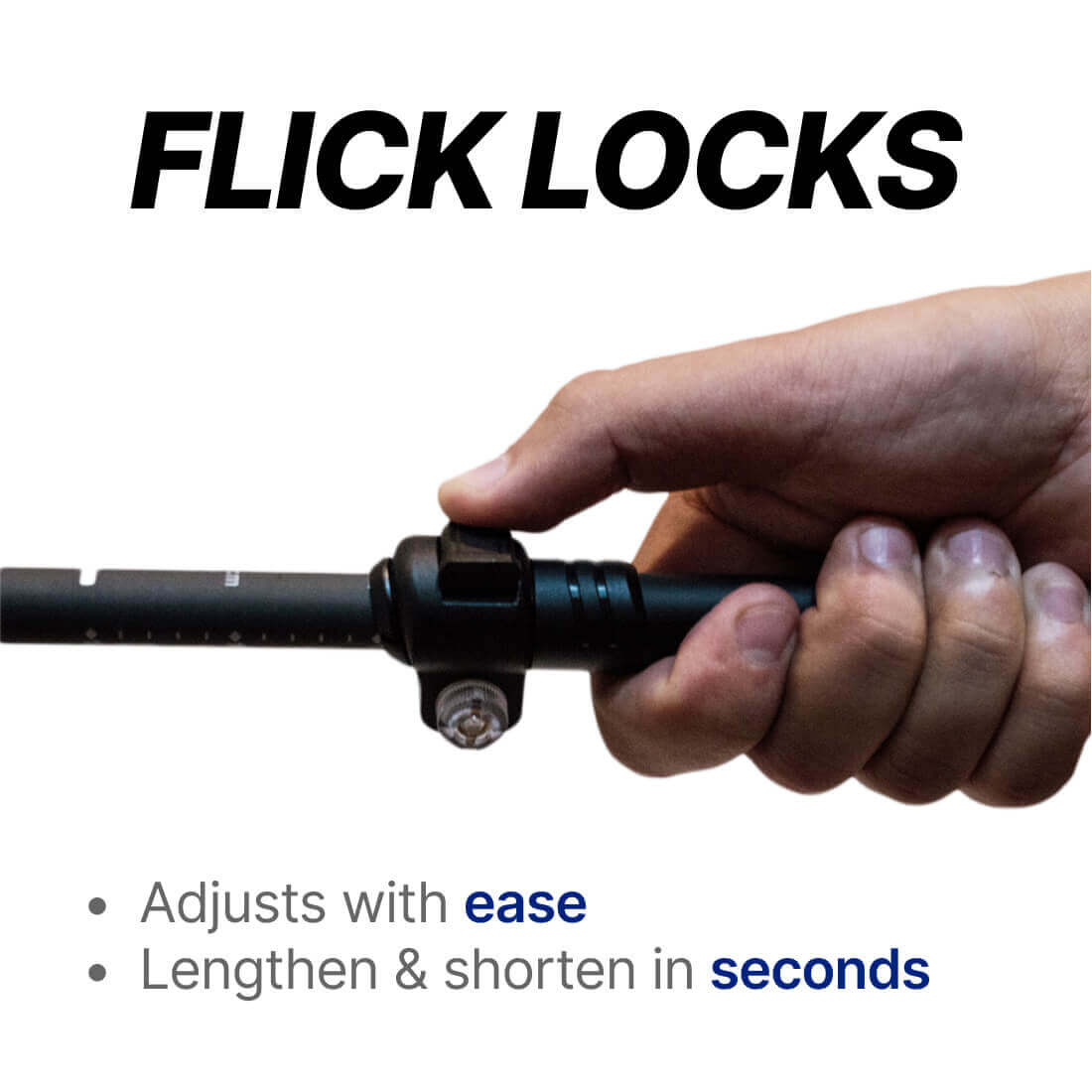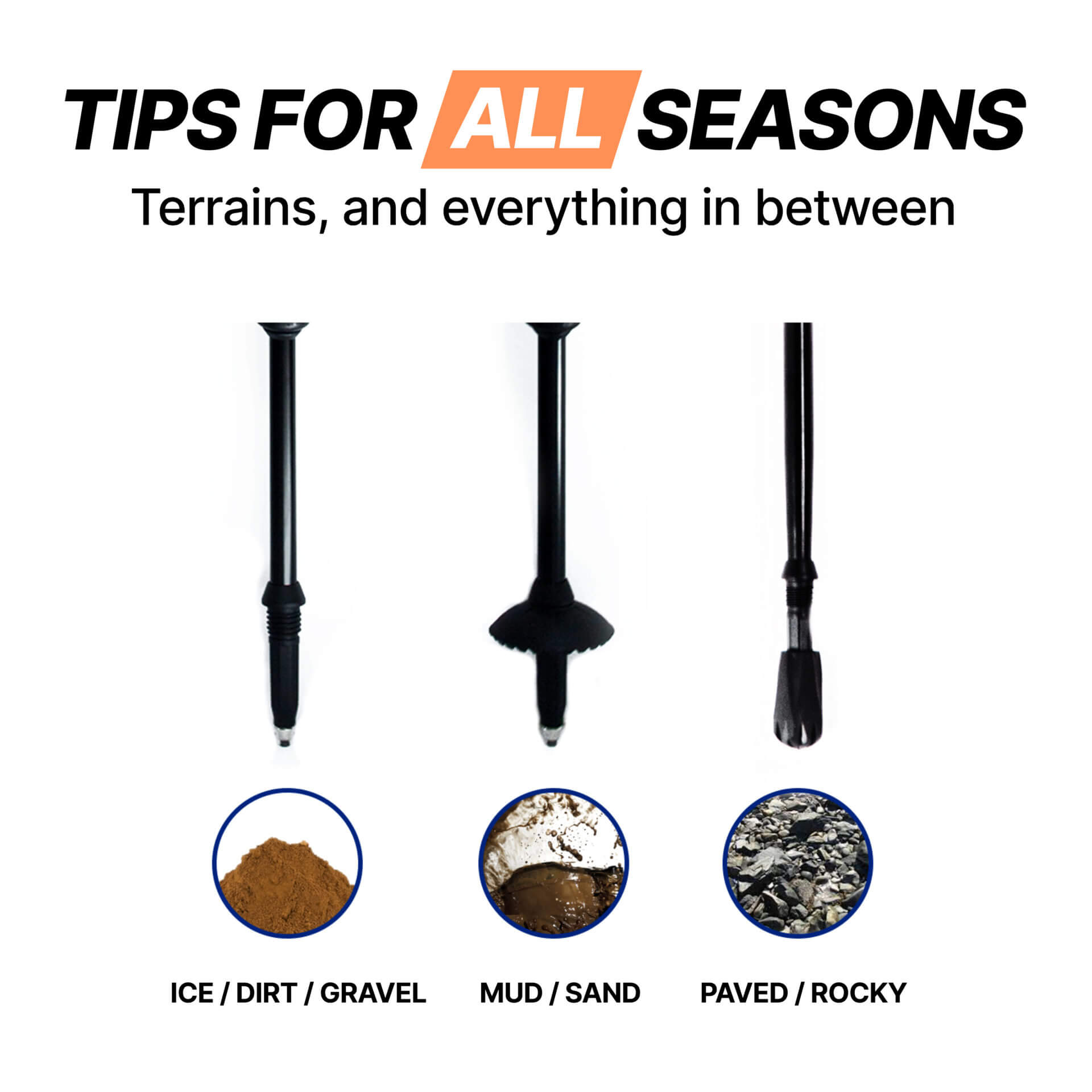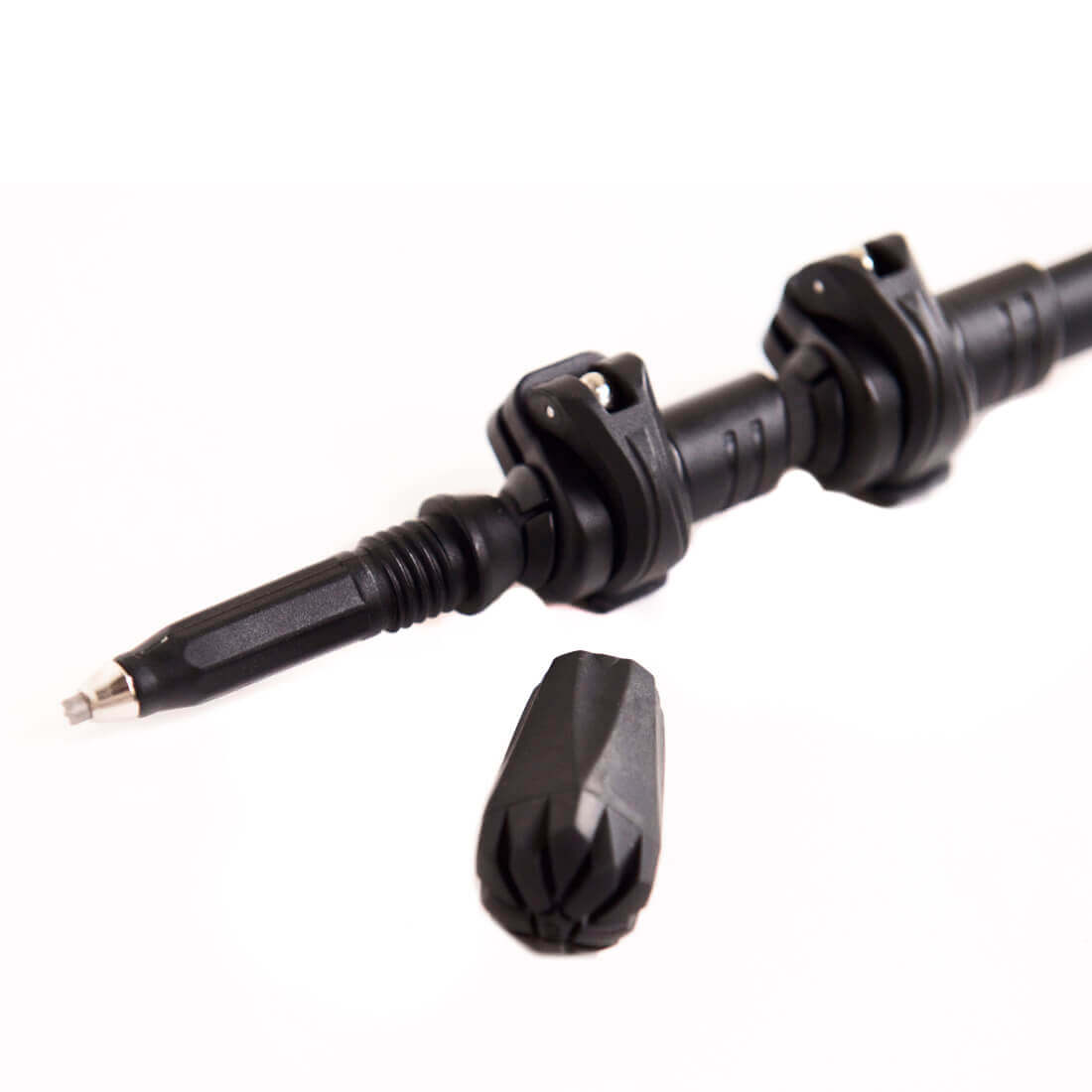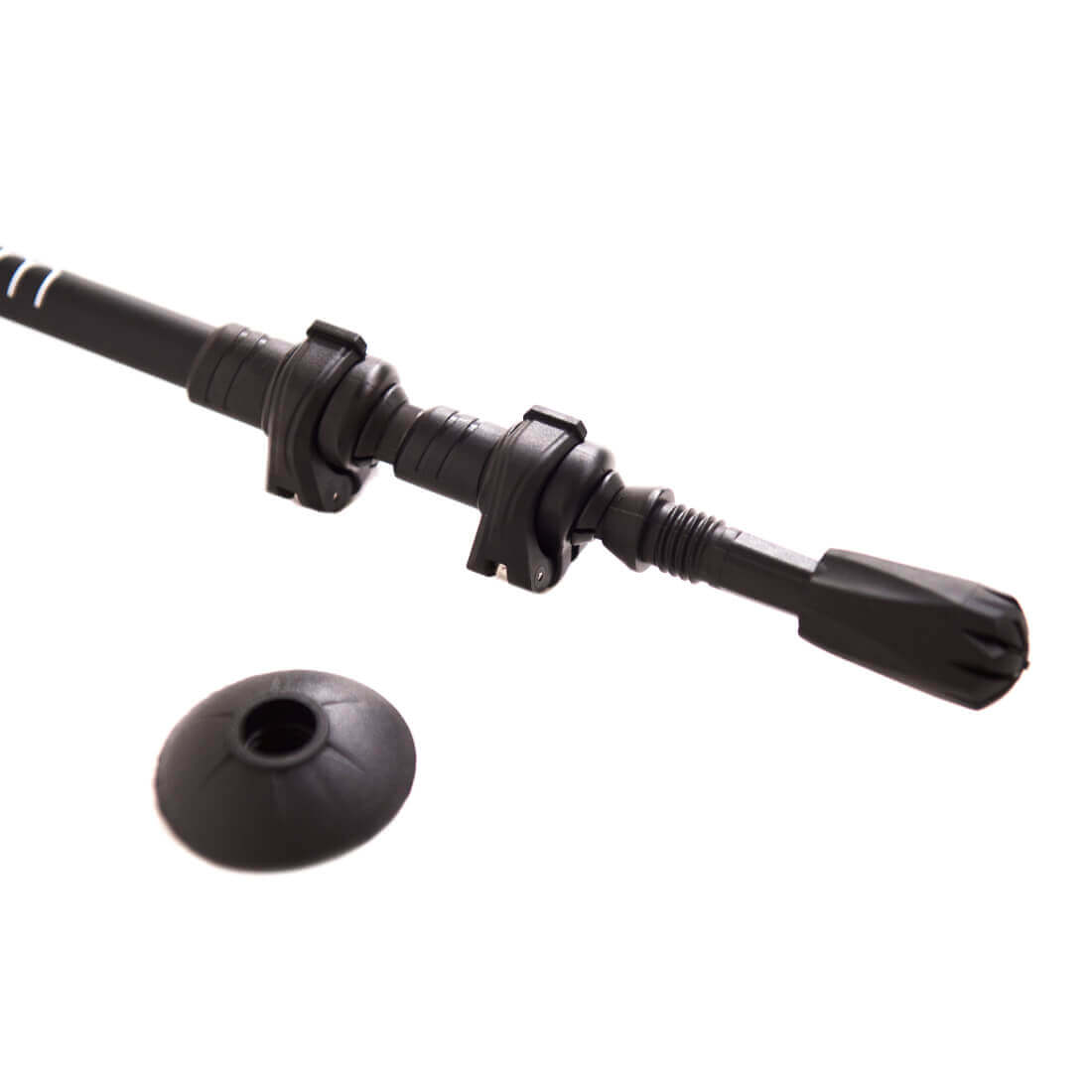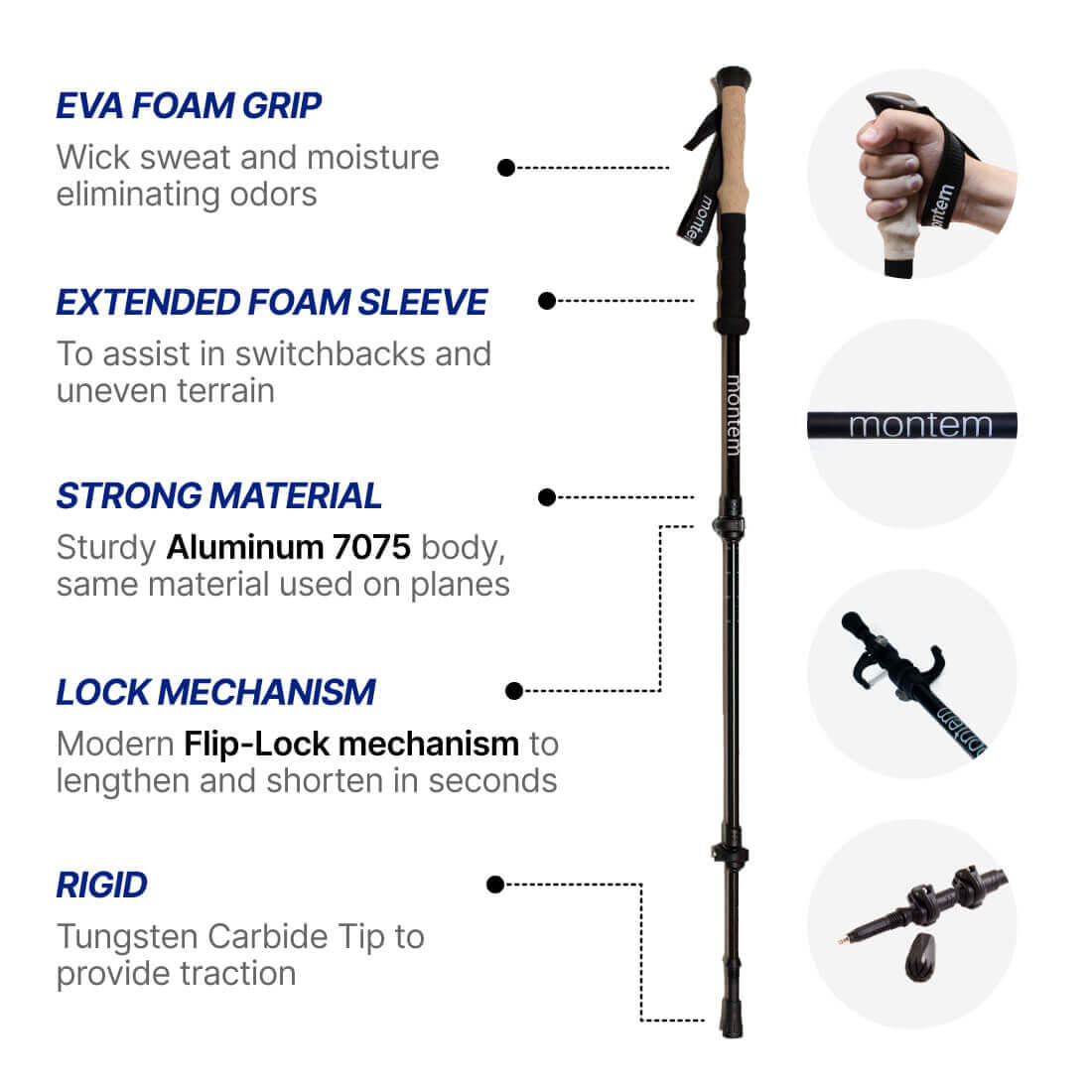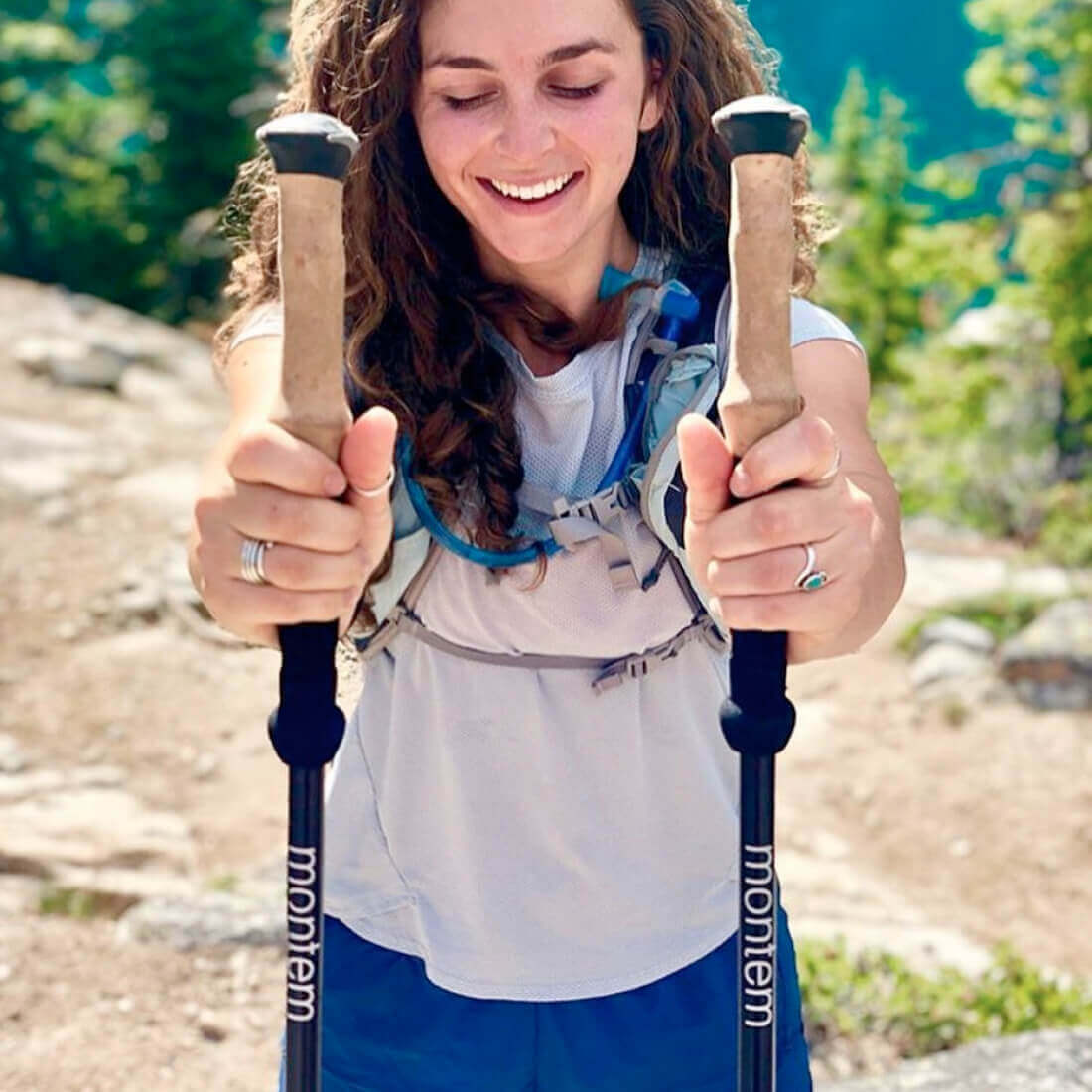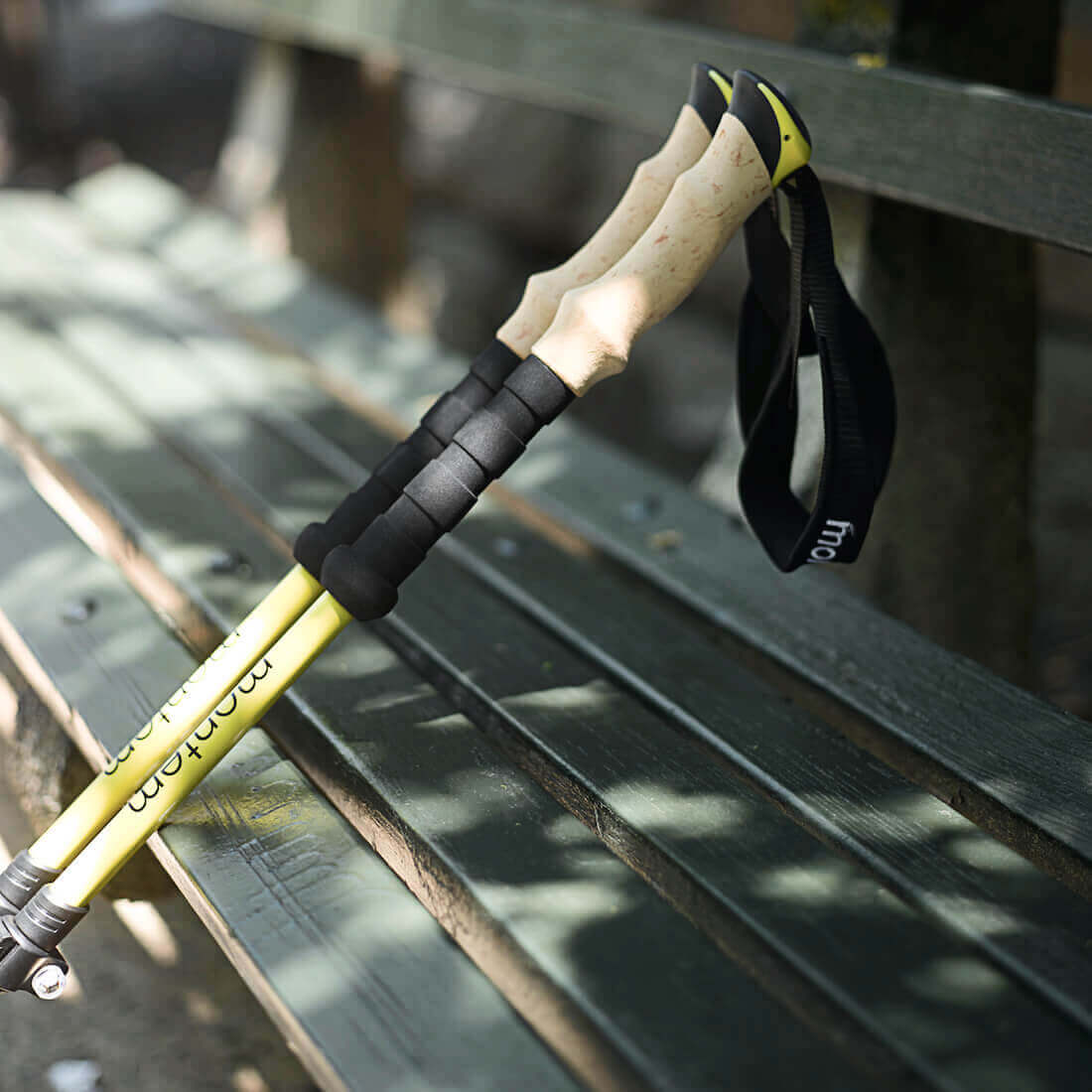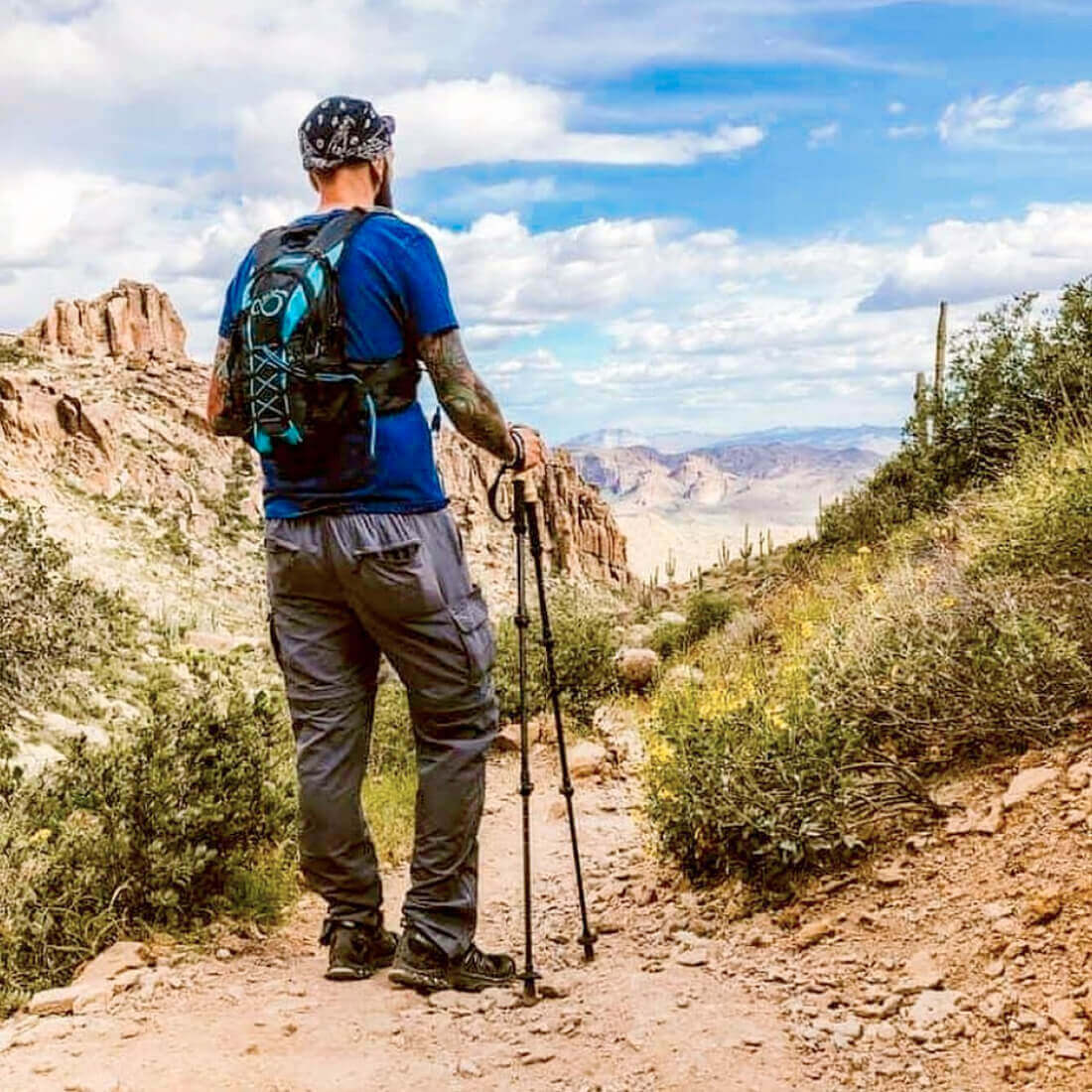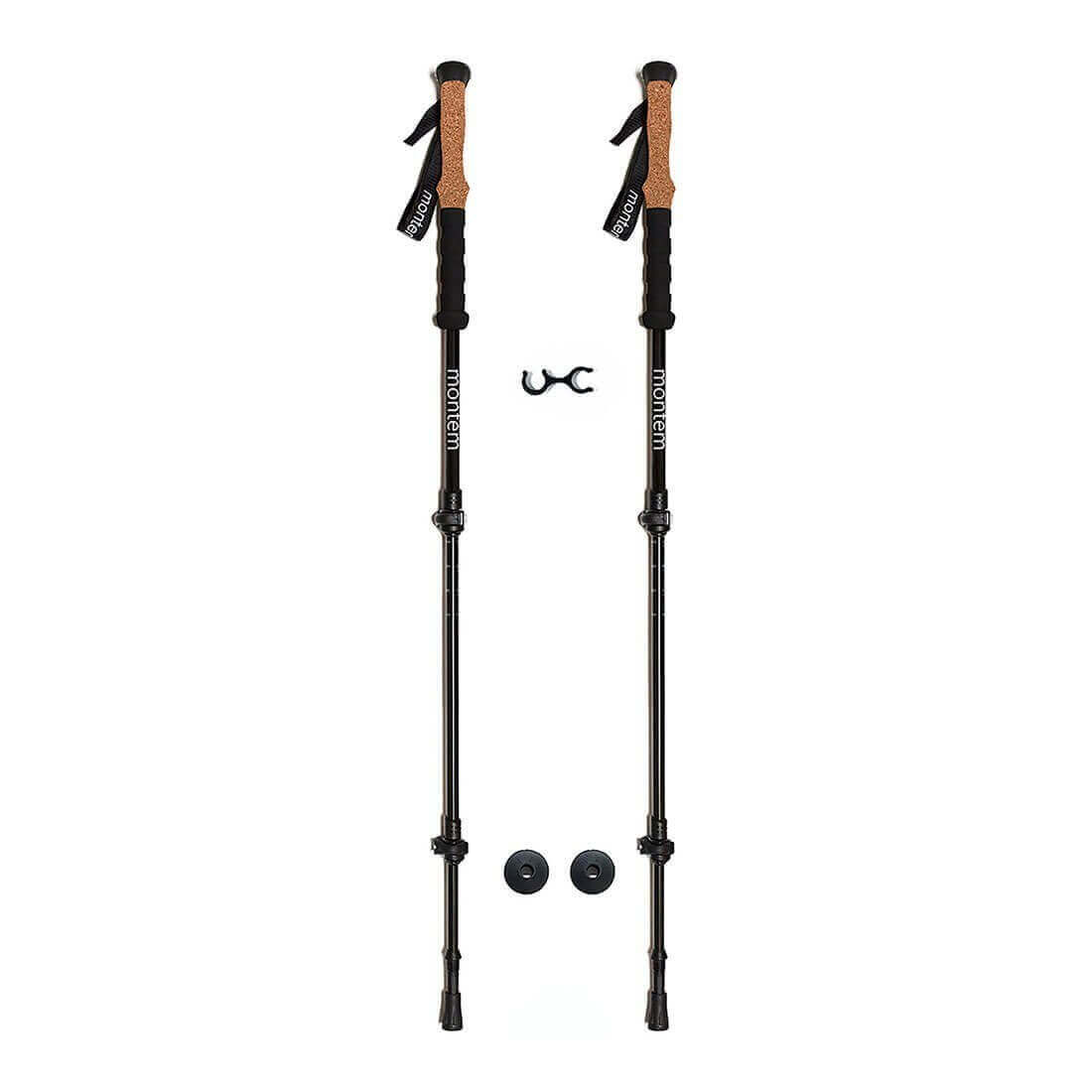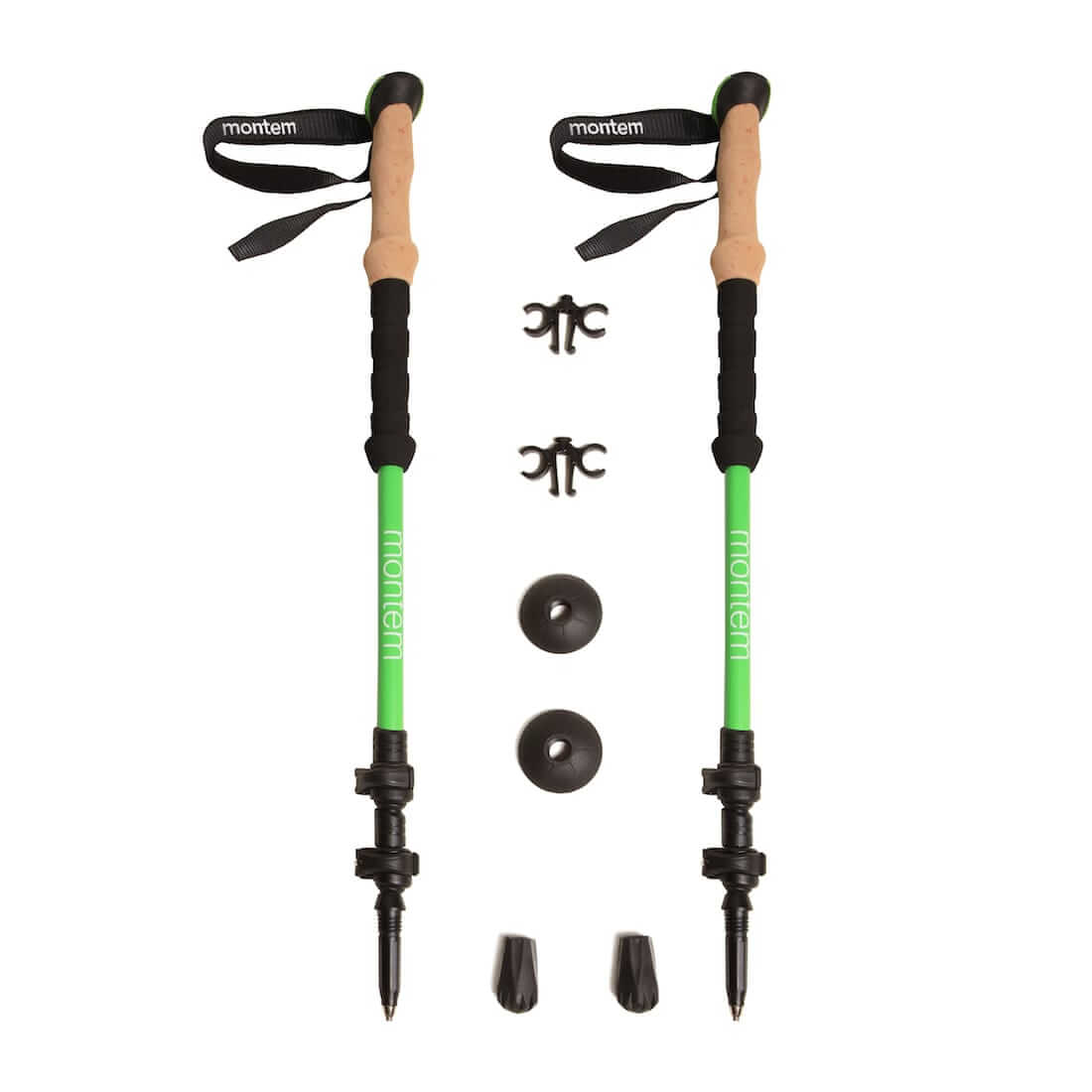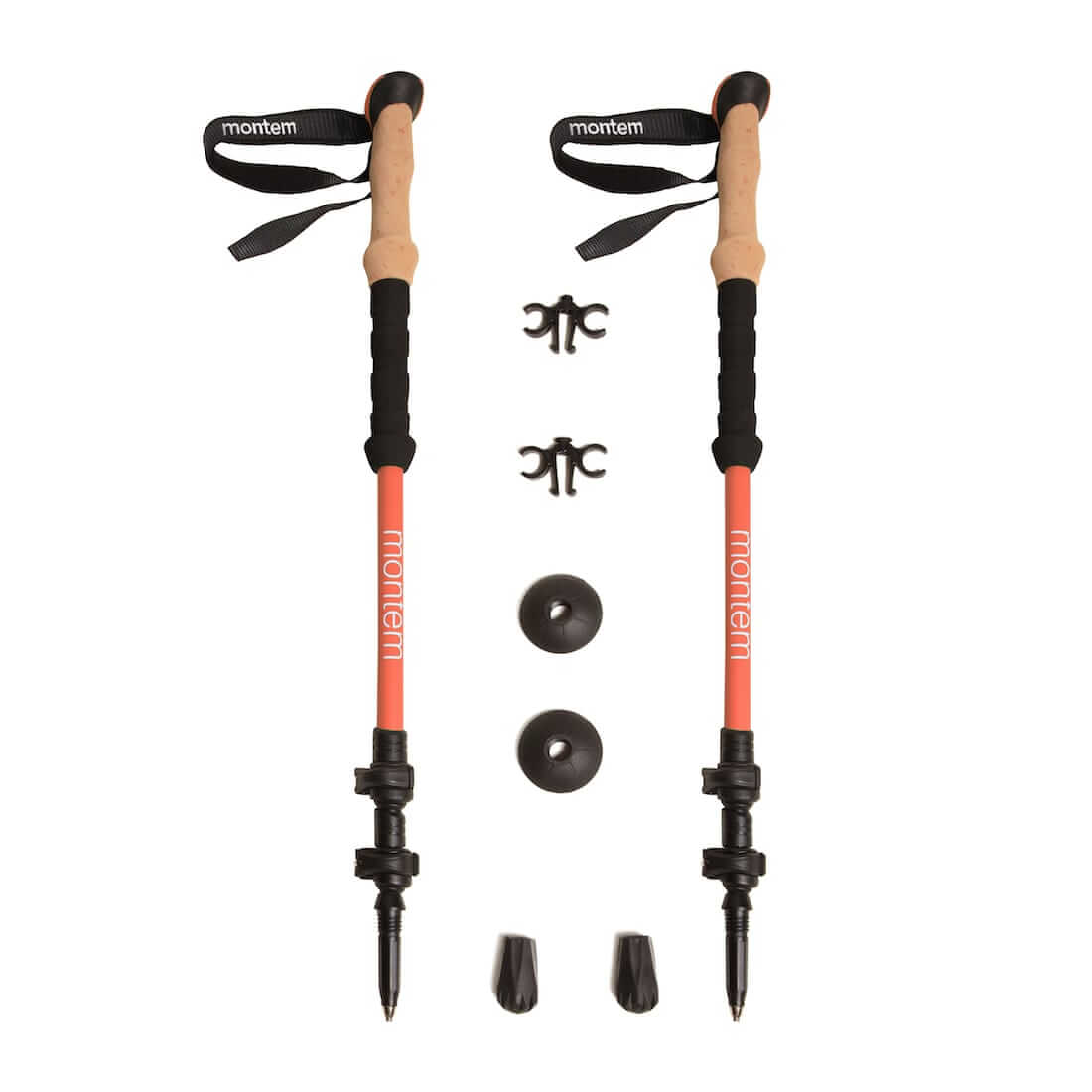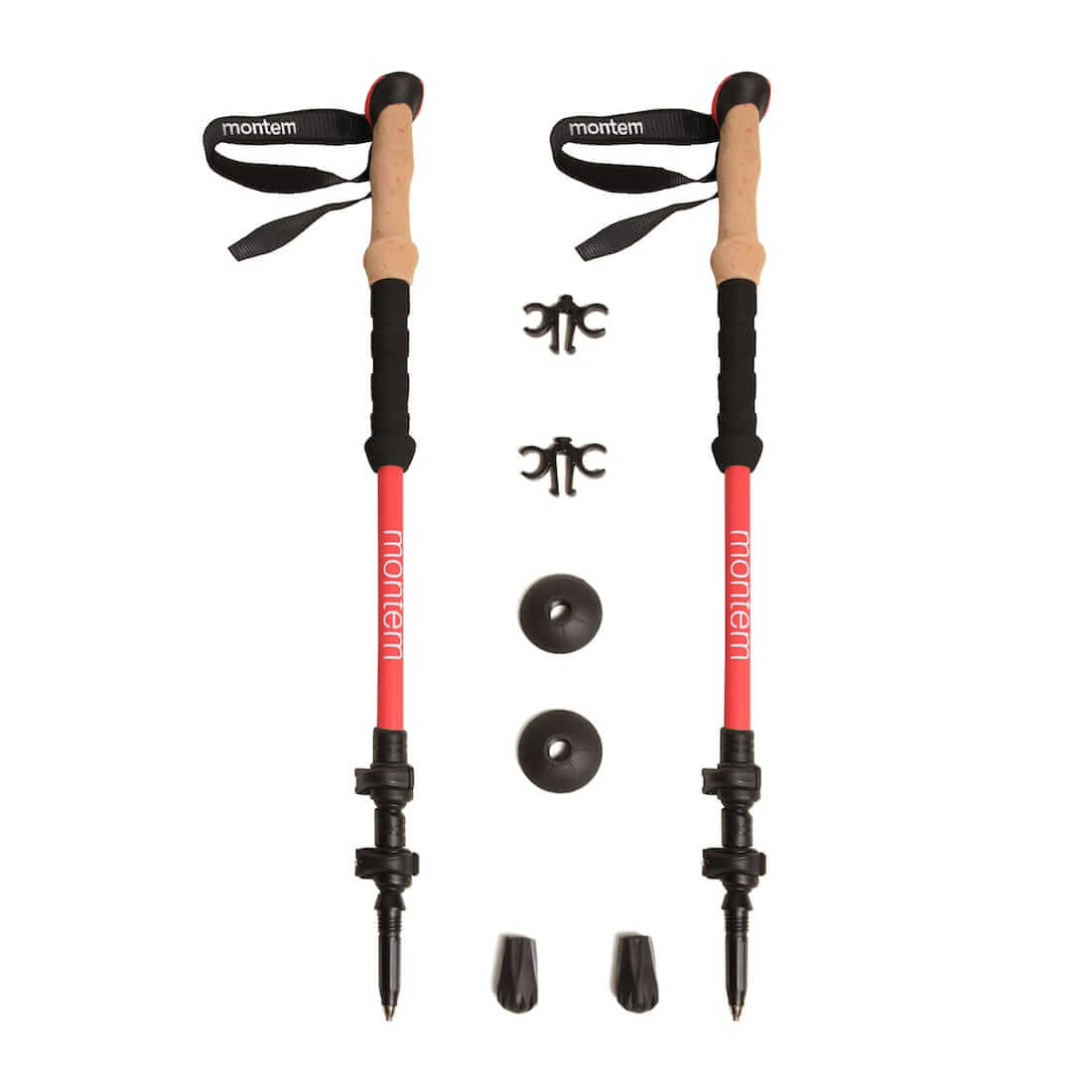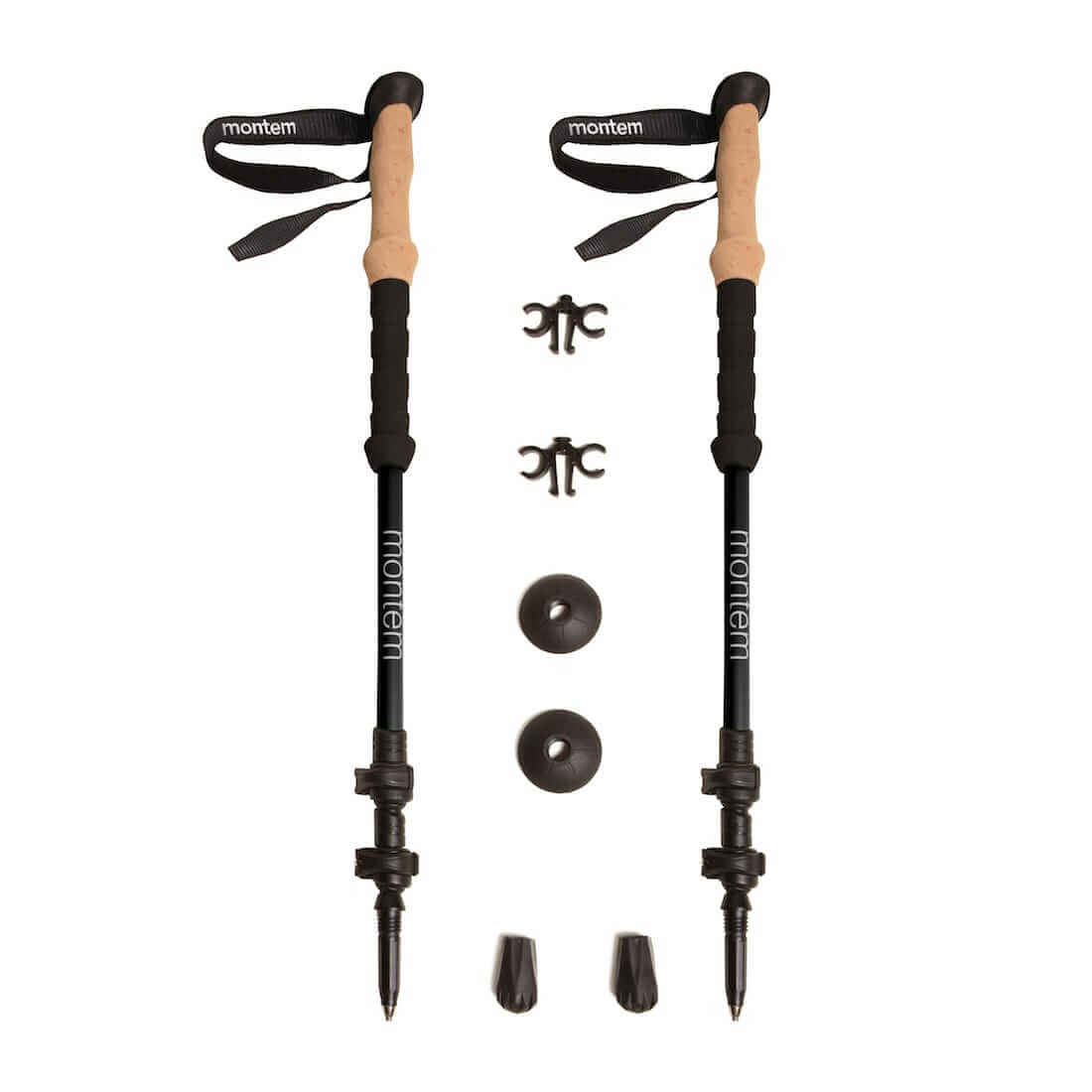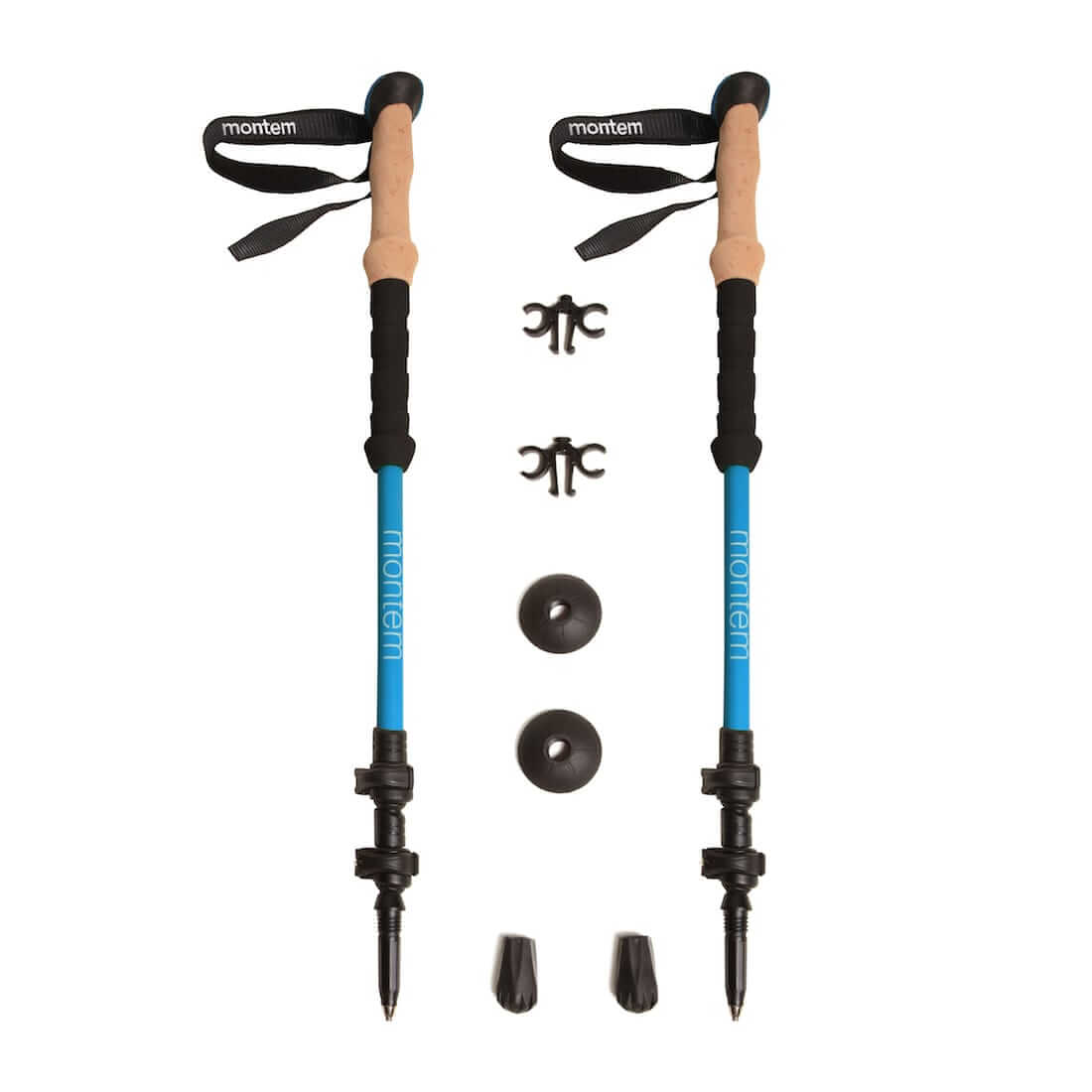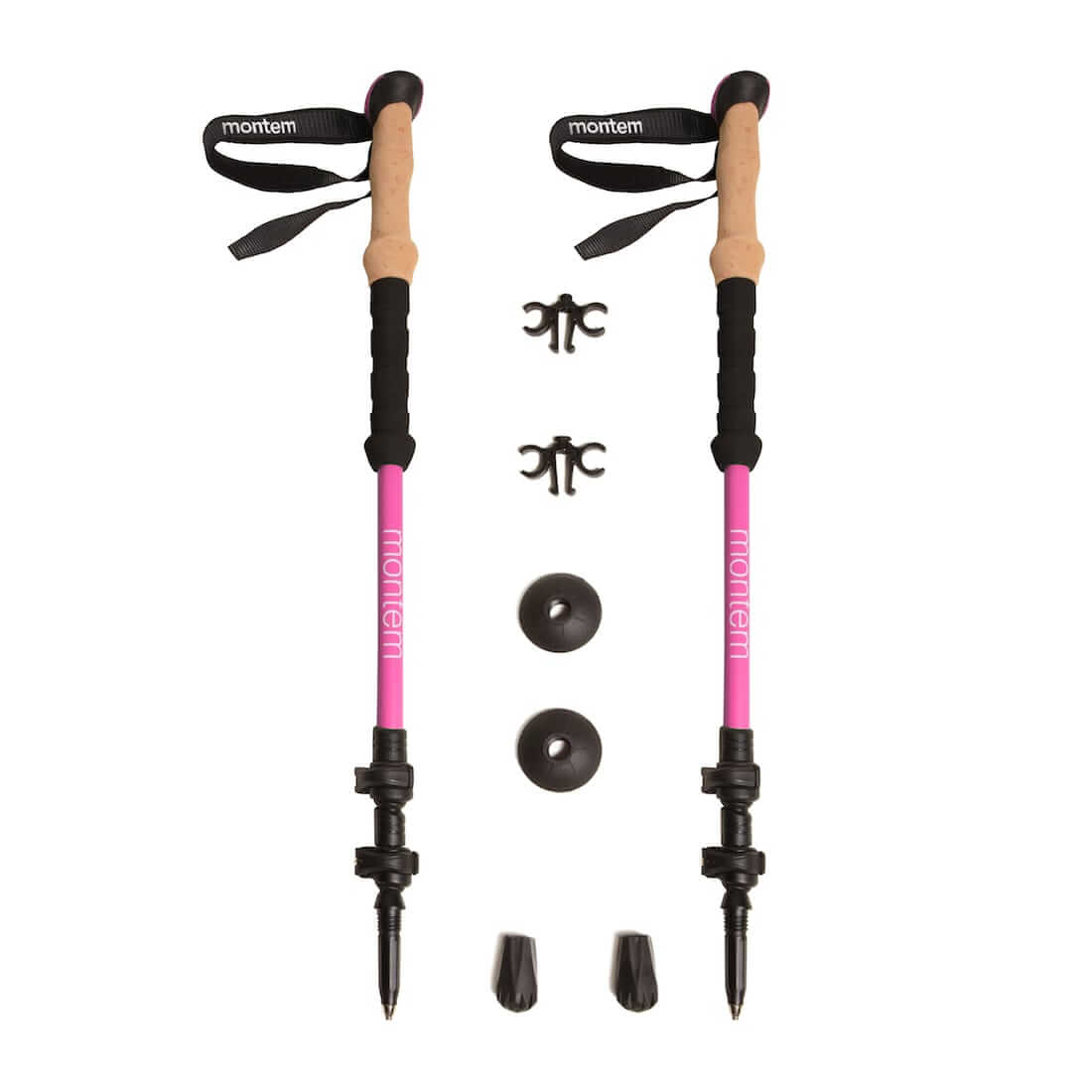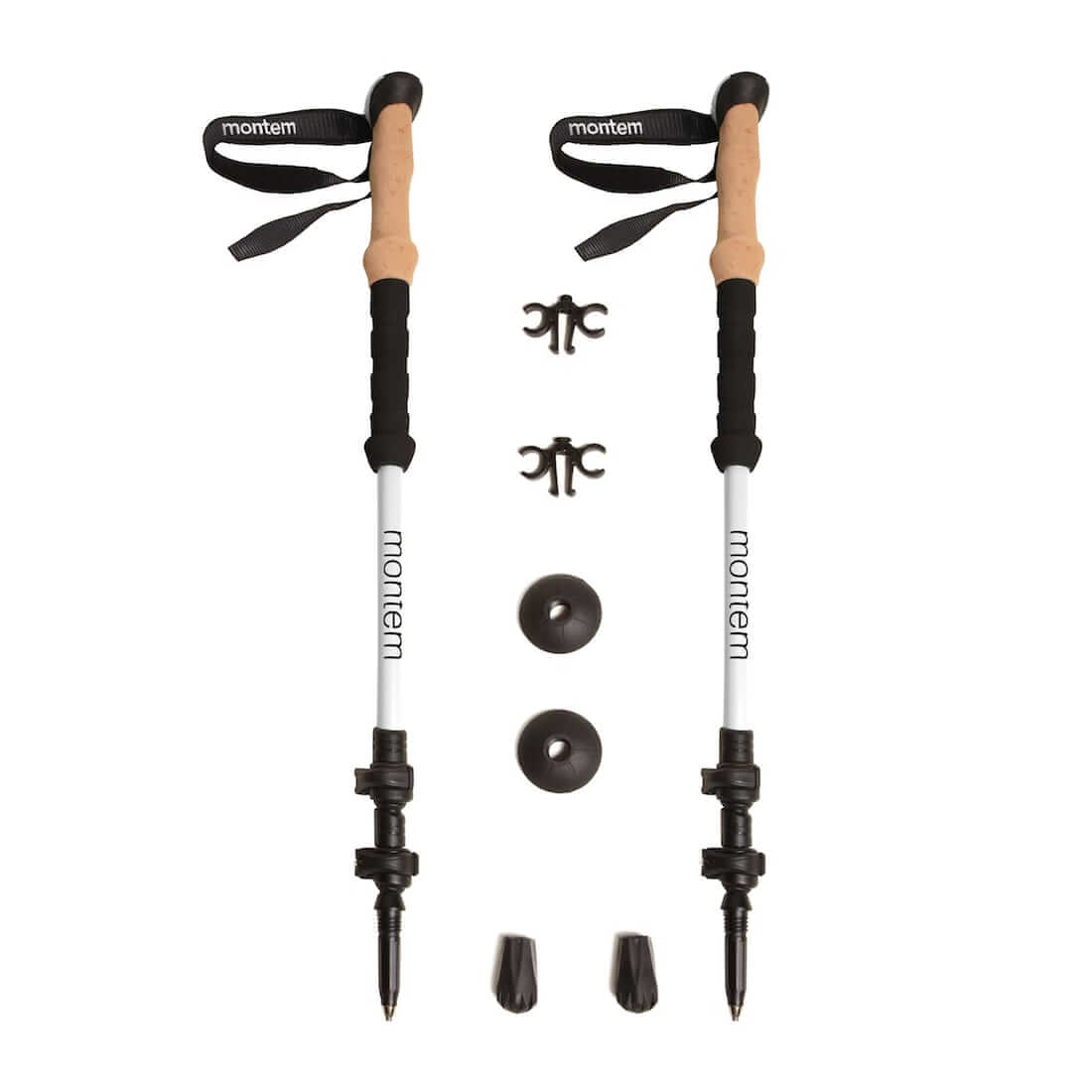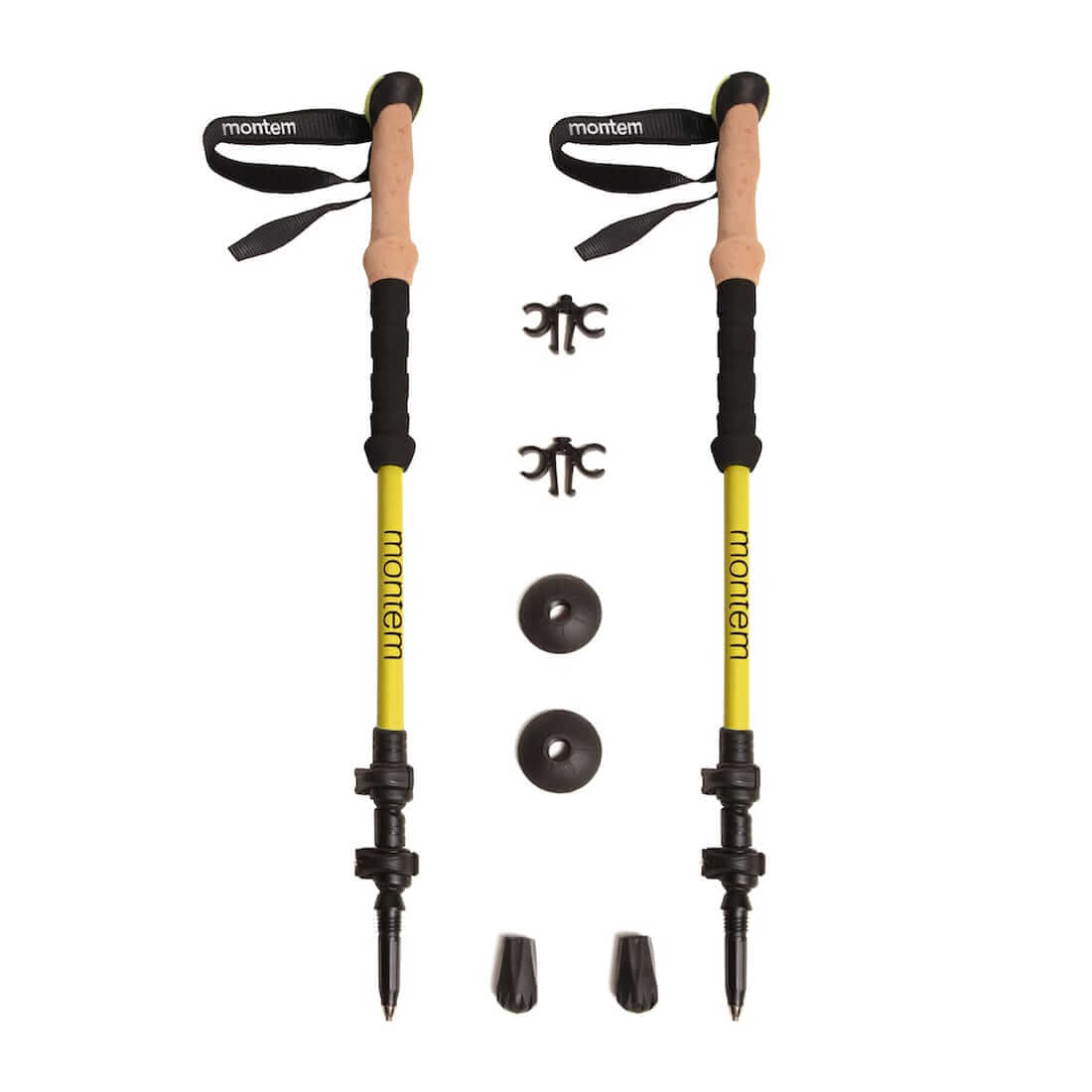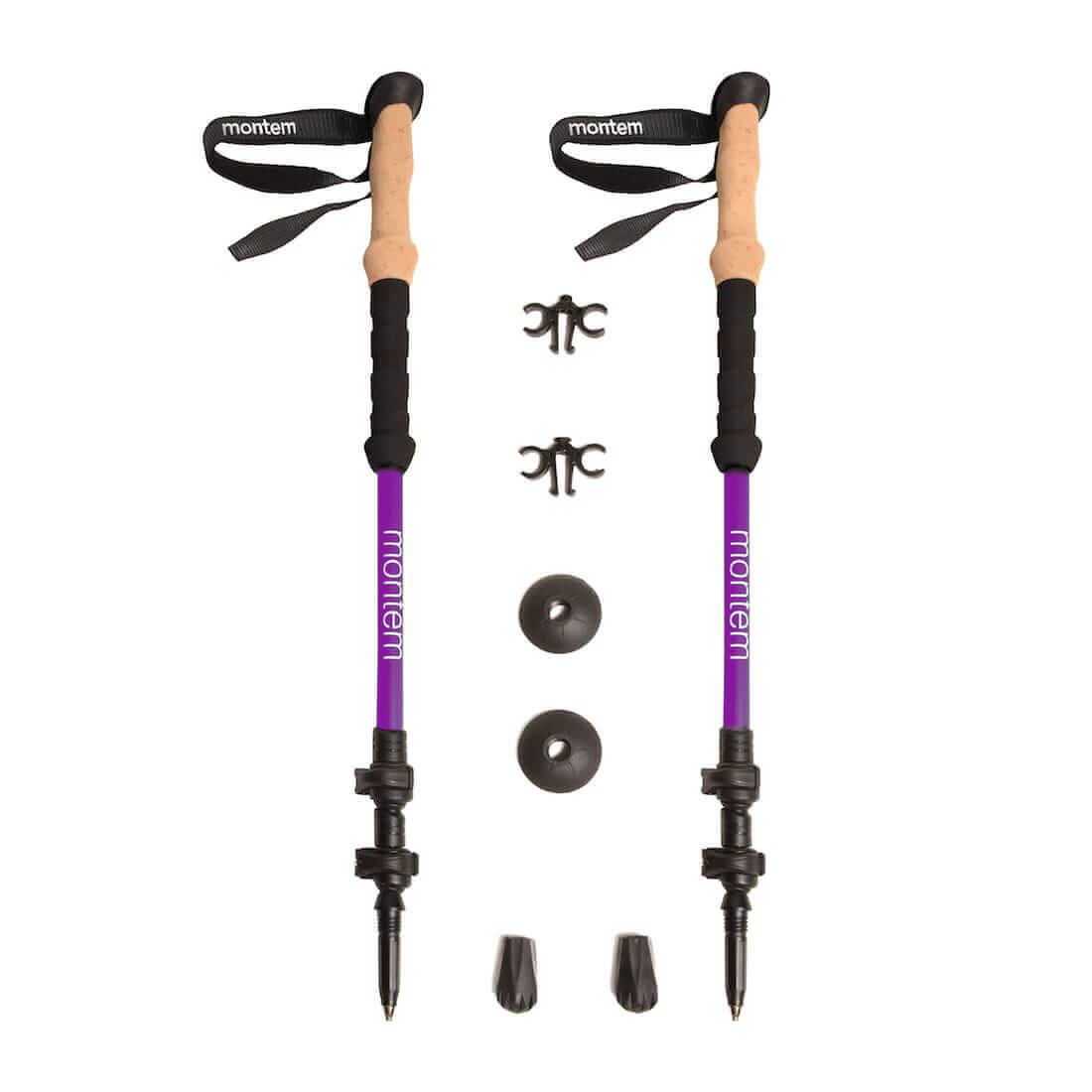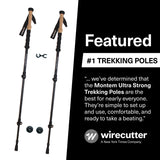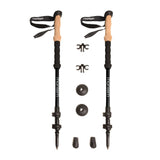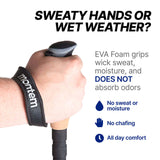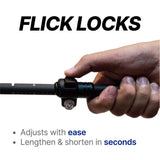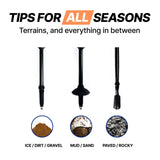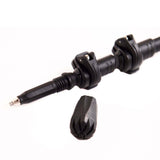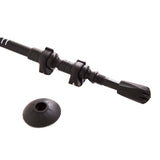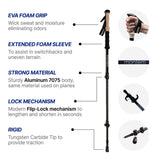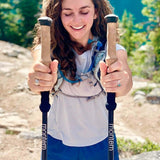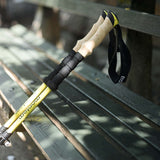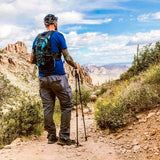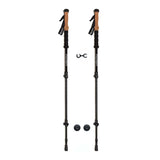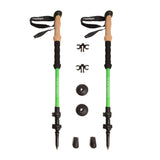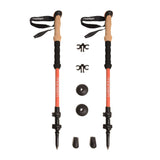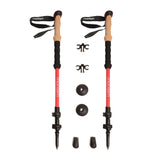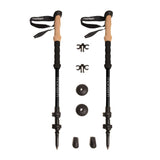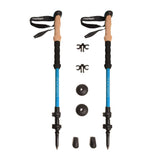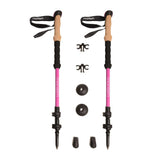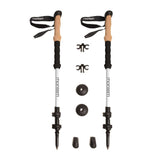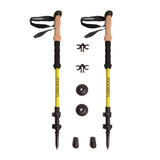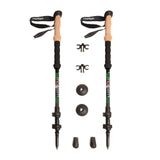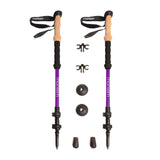 Ultra Strong Trekking Poles
The Ultra Strong model quickly adjusts from 24″ to 53″, comes equipped with easy-to-use flip locks, padded wrist straps, and carbide tips.
#1 ranked Trekking Pole by Backpacker and Wirecutter.
Perfect travel companion with easy fit into backpack or suitcase.
50,000+ poles sold with a 99.3% satisfaction rating.
Included: One pair of rubber tip protectors, one pair of mud baskets, and one pair of pole clips.
---
100% Satisfaction Guarantee.
Ultra Strong Trekking Poles
Ships free in the US
We also ship internationally.
Lifetime Guarantee
Your satisfaction, our promise.
No middle men, no mark ups
This is how we save your money.
Ultra Strong Trekking Poles
Product Description
Specs
| | |
| --- | --- |
| Shaft Construction | Aluminum 7075 |
| Grip Material | EVA Foam |
| Adjustable | Yes |
| Ultra Strong | Yes |
| Maximum Length (in) | 53 |
| Minimum Length (in) | 24 |
| Maximum Length (cm) | 135 |
| Minimum Length (cm) | 61 |
| Weight Per Pair (oz) | 19.2 |
| Gender | Unisex |
Frequently Asked Questions
Trekking Poles
Why are Montem trekking poles better than "the other guys"?
Are Montem trekking poles easy to adjust? If so, how?
Is the wrist strap adjustable?
WHAT OUR CUSTOMERS ARE SAYING
Finally, an affordable carbon pole. Montem answers the most common gripe-price-with this sub-$80 offering that performs like it costs twice as much.
After about 40 hours of testing on trails, streets, beaches, and many places in between—including extensive handling and testing in a physical-therapy office, among therapists, nurses, patients, and doctors in an orthopedic group—we've determined that the Montem Ultra Strong Trekking Poles are the best for nearly everyone. They're simple to set up and use, comfortable, and ready to take a beating. Also, they're a bargain.
The Montem Ultra Strong Trekking Poles blend Aluminum 7075 with a top of the line telescoping system, allowing them to weigh only 9.6 ounces and condense to 24" while offering tested support of over 350lbs per set. Experience functionality wrapped in the sleek, rugged look you've come to expect from Montem.
Montem Trekking Poles are a great deal for the value they provide. From committed outdoor enthusiasts to local strollers, these poles will offer a great work out, as well as a sturdy base you can rely on. For the price, it doesn't get much better than this.
Montem nailed important details like choke-up extensions on the grips, in-field adjustments for the locking mechanism, and easily adjustable straps.